When UBS Group AG integrates Credit Suisse Group AG in the coming months, the Swiss bank plans to run staff from the scandal-prone former rival through what Chairman Colm Kelleher dubbed a "culture filter" to weed out potential bad apples.
The inconvenient truth for UBS is that the vetting won't do anything for the legal headaches already working their way through courts from Switzerland to Singapore. The cleanup will fall to UBS chief legal counsel Barbara Levi once the deal closes — expected later in May.
The long list of unresolved cases span an embarrassing criminal conviction for facilitating a Bulgarian cocaine trafficker's money laundering to a half-a-billion dollar settlement in a bribery scandal related to a tuna fishing fleet in Mozambique.
Update: Credit Suisse's String of Crises: Spies, Money Laundering, Takeover
All told, the civil liabilities could reach into the billions, and then there's criminal risks as well. The deal itself has also raised new issues as owners of at least $6 billion of bonds fight against getting wiped out.
While the price UBS is paying is low enough to allow the bank to absorb unexpected exposure, legal issues are among the key unknowns as Switzerland's two biggest banks merge. Spokespeople for both companies declined to comment on the status of key cases or how they'll evolve once the deal closes.
The litany of Credit Suisse issues comes as UBS winds down its own backlog, including an expected agreement with US authorities over residential mortgage-backed securities that date from the 2008 financial crisis. In France, UBS has lodged a top court appeal following a €1.8 billion ($2 billion) criminal conviction in a tax case in 2021.
Here's where things stand in the key cases:
Cocaine Conviction to Geneva Jeopardy
Credit Suisse had vowed to appeal the first-ever criminal conviction of a major Swiss lender in the country's history. While a fight to overturn a verdict reached last June might have made sense to defend its reputation, the calculus will change after the takeover.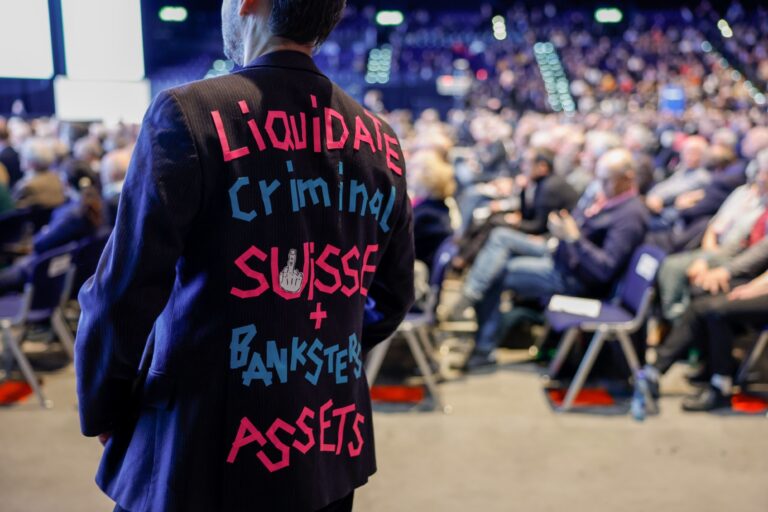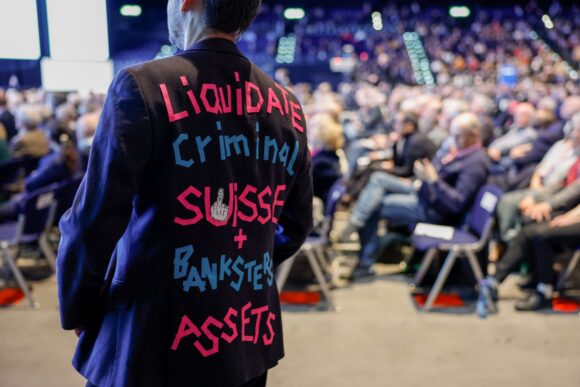 Given an appeal trial would again dredge up embarrassing details about Credit Suisse's compliance practices, UBS may want to led it slide.
Getting rid of the other outstanding criminal case will be trickier. A Geneva prosecutor identified last June more than $60 million that he believes was laundered through Credit Suisse.
Yves Bertossa last year alleged Credit Suisse failed to prevent eight transactions perpetrated by former wealth manager Patrice Lescaudron between 2008 and 2014. Geneva's top financial-crime prosecutor said the dealings constituted aggravated money laundering by the lender.
Credit Suisse has consistently maintained that Lescaudron, who was convicted of a long-running fraud scheme, was a lone wolf who hid his deceit. A spokesman for the Geneva prosecutor confirmed that Bertossa's probe is still underway.
Under Swiss criminal law, there's scope for UBS to be held liable even if the infraction happened before its involvement, according to Katia Villard, a professor of criminal law at the University of Geneva.
"It's quite clear that you can no longer prosecute a person after they die, but corporate criminal liability is different," she said. If Credit Suisse ceases to exist as a legal entity, "UBS could then become, in my view, the new target."
Geneva's prosecutor could instead choose to indict individual bankers rather than Credit Suisse, according to Kern Alexander, a professor of law and finance at the University of Zurich.
If authorities do go after the lender, Swiss corporate law doesn't allow an acquiring company to limit criminal liability that may arise from the target company's previous actions, he said. UBS may, however, have sought to secure immunity from any of Credit Suisse's legacy criminal cases as part of the deal, he added. The company declined to comment.
Georgian Retribution
As part of the Lescaudron fallout, former Georgian Prime Minister Bidzina Ivanishvili is contesting cases in Bermuda and Singapore to recover losses stemming from the wealth manager dipping into the billionaire's account in an effort to cover losses from other clients.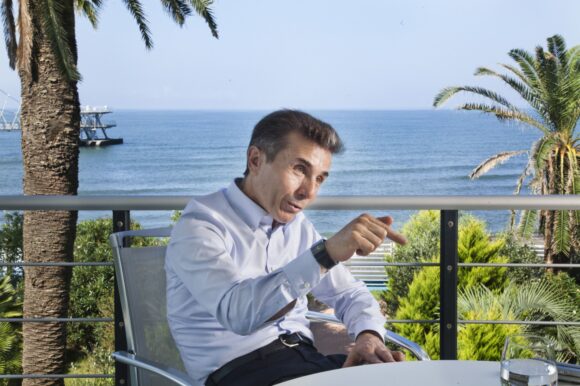 The Bermuda unit of Credit Suisse, which managed a sizable portion of Ivanishvili's fortune "turned a 'blind eye'" to Lescaudron's criminal behavior, a judge in the island nation ruled in early 2022. Credit Suisse is appealing the verdict, which set damages at more than $600 million.
A lawyer for the Bermuda unit argued during the appeal that the calculation is overly simplistic as it treats the entire portfolio as a single block. Moreover, he said it's predicated on theoretical returns during an extended bull market, giving the billionaire "a second bite of the cherry."
There's a linked case in Singapore, where Ivanishvili is suing a Credit Suisse trust that managed a separate part of his fortune. The Georgian's lawyers said they're seeking about $800 million in total. The lawsuit wrapped up in Singapore in February, but a verdict is still months away.
CS Trust Singapore's main lawyer surprised observers during the trial by conceding it had failed in its fiduciary duties and should have flagged unauthorized transfers. Although that may have been an attempt to limit the trust's liabilities, it could have a bearing on whether the judge rules in the tycoon's favor.
Regardless of the deal, "we expect all of Credit Suisse's legal obligations in the ongoing litigation for recovery of losses resulting from mismanagement and fraud perpetrated by Credit Suisse personnel to be met," said a spokesman for Ivanishvili.
UBS's ultimate exposure might be limited. The two courts will likely adjust damages depending on the outcome at the other. Also, the funds covering the Bermuda judgment have been fully provisioned for. Credit Suisse declined to comment on whether any money for potential trial losses in Singapore has been set aside.
'Tuna' Bribes
Starting in London in September, UBS's legal team could face a 13-week civil trial over Credit Suisse's role in the $2 billion "tuna bond" scandal. To resolve a US Justice Department criminal probe over a fundraising scandal that saw hundreds of millions looted from Mozambique, the bank agreed in 2021 to pay almost $475 million.
The loans were for three maritime projects including a tuna fishing fleet and a surveillance operation to protect Mozambique's coastline against pirates. Three former Credit Suisse bankers were convicted in the US for accepting bribes.
Authorities in Mozambique accuse Credit Suisse of ignoring multiple red flags when arranging the loans to state-backed companies. The Swiss lender denies those claims. In this case too, there's the possibility UBS chooses to settle to avoid the embarrassment of a lengthy London trial.
US Entanglements
In late March — just days after the forced sale to UBS — the US Senate's finance committee said it had uncovered "major violations" of Credit Suisse's $2.6 billion plea deal over helping Americans cheat on taxes. Ron Wyden, the Oregon Democrat who chairs the committee, said its investigation shows the bank didn't live up to the 2014 deal and that the pending takeover "does not wipe the slate clean."
Credit Suisse has said it doesn't tolerate tax evasion and is "actively cooperating" with the Justice Department. It's not clear what penalties could result from the allegations.
The Swiss lender also suffered a legal setback in March. A New Jersey court rejected its bid to defeat class-action status in a $1.8 billion lawsuit from investors in its VelocityShares Daily Inverse VIX Short Term exchange-traded notes. The potential cost of losing at trial makes a settlement likely and in the range of $500 million, according to Elliott Stein, Bloomberg Intelligence's senior litigation analyst (Click here for the full report).
In another US issue, Credit Suisse faces private civil litigation that concerns some $2 billion in claims related to its role in selling residential mortgage-backed securities, which contributed to the 2008 financial crisis. Recent court decisions point to a potential settlement in the range of $400 million to $800 million, according to Stein.
Greensill Debacle
Credit Suisse said a year ago that investors should brace for a five-year fightwith insurers and some borrowers over the implosion of a $10 billion group of funds linked to disgraced financier Lex Greensill. That leaves nearly four years for UBS to contend with.
On top of efforts by former partners to claw back more of their cash, the UK's Serious Fraud Office is investigating allegations of money laundering by Sanjeev Gupta's GFG Alliance, to which Greensill was a major lender.
Swiss banking regulator Finma began enforcement proceedings against four former Credit Suisse staffers after concluding in February that the lender "seriously breached" its risk-management obligations in the Greensill Capital supply-chain financing affair.
Archegos Fiasco
While Credit Suisse has settled with a clutch of US pension funds over losses related to the 2021 implosion of Archegos Capital Management, at least one more has sued the bank's board for alleged "reckless conduct" that contributed to a $4.7 billion writedown.
Unlike other banks working with the family office that managed billionaire Bill Hwang's fortune, Credit Suisse was slow to unwind its positions and was caught with major losses.
Russian Sanctions Probe
UBS and Credit Suisse are connected on at least one issue. On March 23 — just four days after the shotgun wedding was announced — it emerged that both were among those subpoenaed by the Justice Department in a probe into whether financial professionals helped Russian oligarchs evade sanctions.
The US inquiries are focused on identifying staff that dealt with sanctioned clients and how those clients were vetted over the past several years. Before fresh sanctions were imposed following President Vladimir Putin's invasion of Ukraine, Credit Suisse was a magnet for wealthy Russians. At its peak, the bank managed more than $60 billion for clients from the country and was still managing about $33 billion as recently as May 2022.
Bond Backlash
In addition to legacy legal issues, the combination has raised new ones. Some disgruntled owners of $17 billion in Credit Suisse bonds that were wiped out in the hastily arranged deal are gearing up for a fight. Switzerland's Federal Administrative Court confirmed it's received four lawsuits representing at least $6 billion in additional-tier 1 debt, while hundreds have sued Switzerland's banking regulator Finma.
Credit Suisse Bondholders Who Lost $1.7B in UBS Deal File Lawsuits
This might be merely a nuisance for UBS, because the risk was clearly stated in the offering. Also, any litigation has to be brought under Swiss law, cutting off the potential for New York firms to sue in the US financial capital.
"These lawsuits likely face low odds," said Bloomberg Intelligence's Stein. "My reading of the bond documentation is that it would be very hard for bondholders to succeed on the merits."
–With assistance from Jonathan Browning, Marion Halftermeyer and Gaspard Sebag.
Photograph: Shareholders at the Credit Suisse Group AG annual general meeting in Zurich, on April 4. Photo credit: Stefan Wermuth/Bloomberg
Copyright 2023 Bloomberg.