AXIS Capital Holdings Ltd. announced that Vincent C. Tizzio assumed the role of president and CEO of AXIS as part of a planned leadership transition, first announced in December 2022, and timed to the company's annual general meeting held at its corporate headquarters in Bermuda this morning.
Tizzio succeeds longtime AXIS President and CEO Albert Benchimol, who will continue to serve as a strategic advisor to the Company through year end.
"On behalf of the Board of Directors and our entire team at AXIS, we couldn't be more excited to name Vince as the company's president and CEO. Vince is a stellar leader who brings the vision, expansive specialty underwriting knowledge, and passion needed to take our company to the next level. He is also an excellent people leader who perfectly embodies the Company's culture and values," said Henry Smith, chair of the AXIS Board of Directors.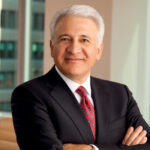 "The board and I are grateful to Albert Benchimol for the leadership that he brought to AXIS for close to 13 years. Under Albert's direction, AXIS transformed and refocused as a specialty leader, cultivating a strong and vibrant workplace culture, while taking crucial steps forward in building a pathway to lasting profitable growth."
Tizzio first joined AXIS in January of 2022 as senior advisor – Insurance Market Strategy and future Insurance CEO, reporting directly to Benchimol. In June 2022, Tizzio was promoted to CEO Specialty Insurance and Reinsurance, overseeing all business lines and front-end operations.
"I'm deeply honored to be named President and CEO of AXIS and to have the opportunity to build on the foundation established by Albert and the team. I express my gratitude to Albert, Henry, the Board of Directors, and our colleagues worldwide for placing their trust in me," said Tizzio. "It's my strong belief that we are only just beginning to tap into our potential as a great underwriting company that stands apart for the specialty expertise and acumen of our people, and the value that we provide to our customers. In the current dynamic market, there is a greater need than ever for the tailored specialty insurance products and services that we offer."
"Serving as President and CEO of AXIS has been the highlight of my career. Words cannot express the gratitude that I feel towards my colleagues at AXIS, as well as to our brokers and partners, for their partnership, commitment, and friendship," commented Benchimol. "I'm proud of all that we accomplished and excited for the future that stands before AXIS. In Vince we have a fantastic leader who has the vision and ability to take AXIS to even greater levels of success."
Source: AXIS Capital Holdings
The most important insurance news,in your inbox every business day.
Get the insurance industry's trusted newsletter