December 12, 2022
Johnnie Torjussen defended his men's singles crown while a new name was etched on to the women's singles trophy on a thrilling weekend of National Championships action in Milton Keynes.
Torjussen did not drop a game en route to his second successive national title, beating second seed Cholan Kayan 21-12 21-17 in the final having overcome Sid Palakkal in the last four.
"It was a tough match at the end and I felt a bit tired, so I was happy to get through it in two," said Torjussen, who has his sights set on entering the world's top 50.
"In the semi-final, I felt a bit slow getting into the match so I wanted to come into the final as quickly as I could and I think I did that really well."
In the women's singles, Georgina Bland won her first national title after defeating reigning champion Abigail Holden in the showpiece.
Bland needed three games to get past Leona Lee in the second round before beating Tashvi Parab and second seed Gauri Shidhaye to set up a final against Holden, who took the opening game 21-14.
Bland hit back to level it up, winning a tense second game 24-22, and led 16-12 in the decider when Holden retired due to a rolled ankle which is likely to keep her on the sidelines for around six weeks.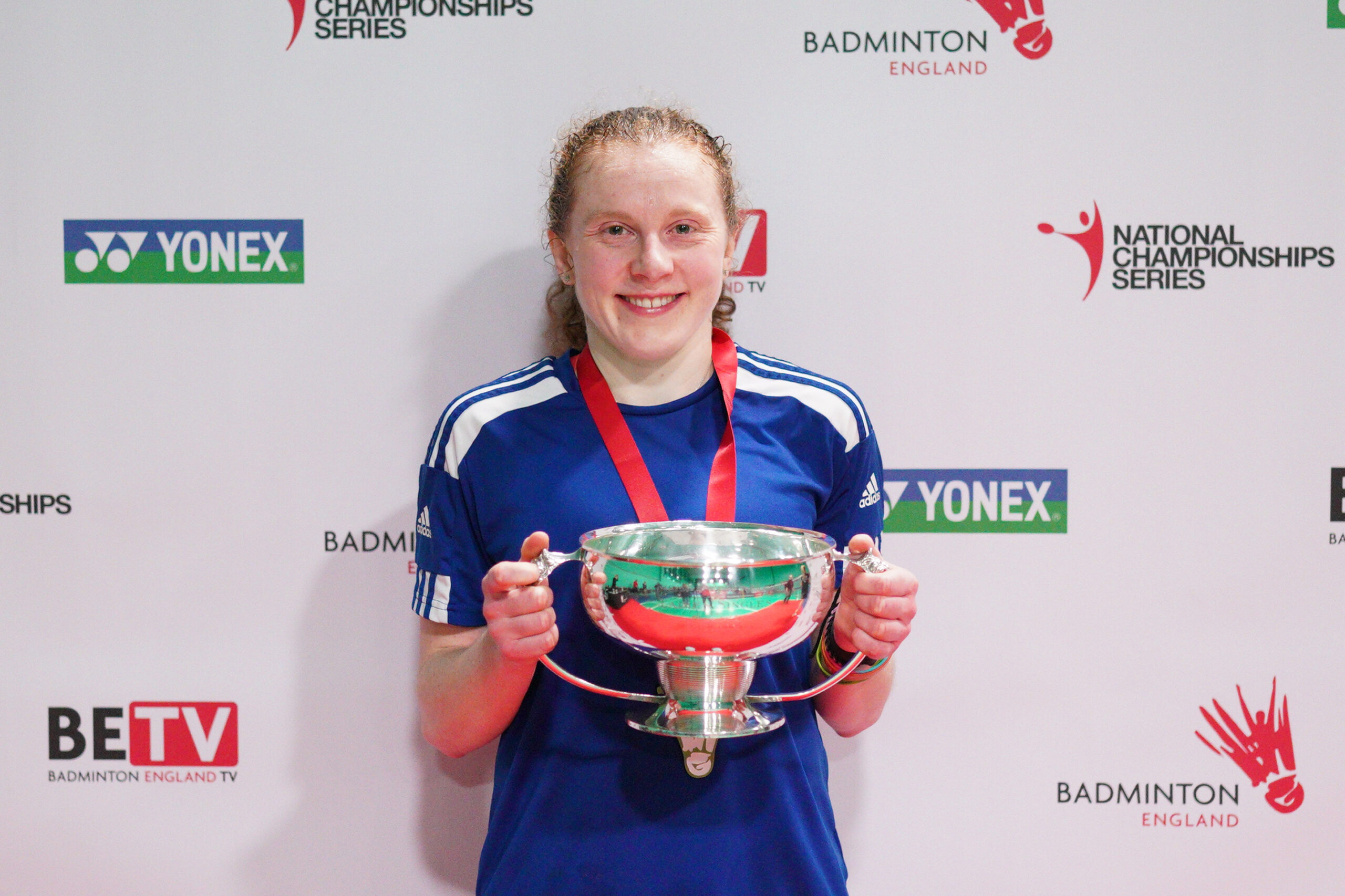 Georgina Bland celebrates her women's singles success (Pic: Alan Spink)
"It's sad to see Abi injured as she's just come back from a knee injury," Bland said.
"But it's nice to win and it was a good tournament for me. It was just about enjoying it and it was nice playing without pressure.
"In the second game [of the final], the pace was really high and I was struggling but it was a good fight all the way until the end. It was good fun."
The men's doubles saw Ben Lane and Sean Vendy become champions for a second time, having previously lifted the trophy in 2019.
The Olympians were given a stern test by Alex Green and Callum Hemming in the semi-finals, eventually prevailing 22-20 21-17 against a scratch pair who performed well in the absence of their usual partners, Brandon Yap and Ethan van Leeuwen.
The victors then took second seeds Rory Easton and Zach Russ in a final which Lane and Vendy won 21-15 21-15, though Easton and Russ' performance added to hopes they can soon threaten the top 50 in the world rankings.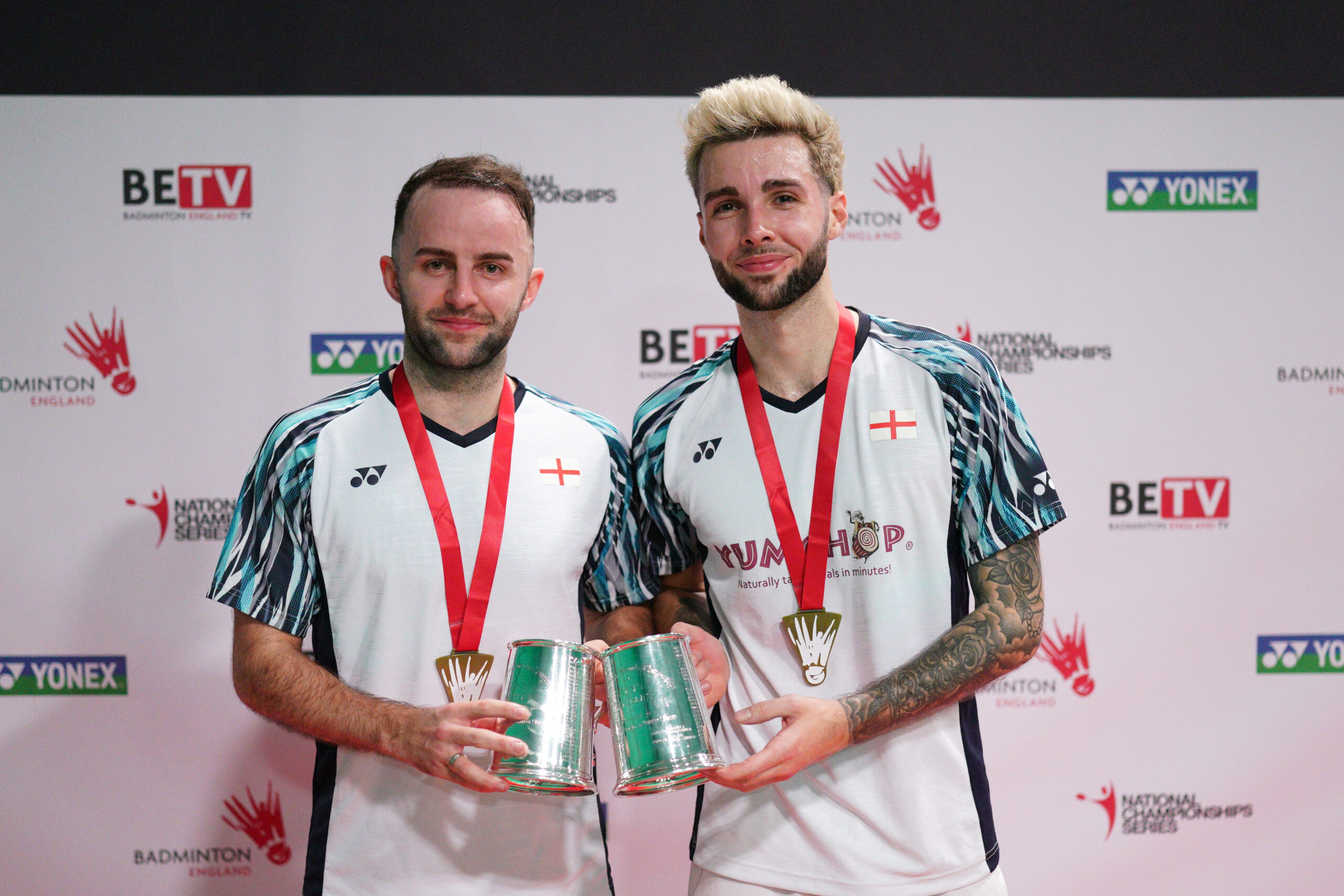 Ben Lane and Sean Vendy celebrate their men's doubles success (Pic: Alan Spink)
"We're really happy, it's always a great privilege to win a national title," Lane said.
"We came into the weekend hoping to win it and I'm glad we could pull through."
Vendy added: "We had a couple of tough matches and it's never easy to play against people you train with day in, day out. But we did a good job this weekend.
"We cherish every time we are successful as we know it doesn't last forever. Whether it's the National Championships or Olympics, we love winning, so we're going to celebrate."
The women's doubles was also won by the top seeds, with Abbygael Harris and Annie Lado coming out on top.
Harris and Lado came through a rollercoaster semi-final against Bland and Anne Hubscher, winning 21-15 19-21 21-16, and three games were again required in the final as unseeded pair Elizabeth Tolman and Hope Warner put up a brave fight.
Tolman and Warner won the opener 21-15 but Harris and Lado hit back to take the next two 21-17 21-18 in the last match of the weekend to seal their spot at this week's European Team Championship Qualifier, also in Milton Keynes.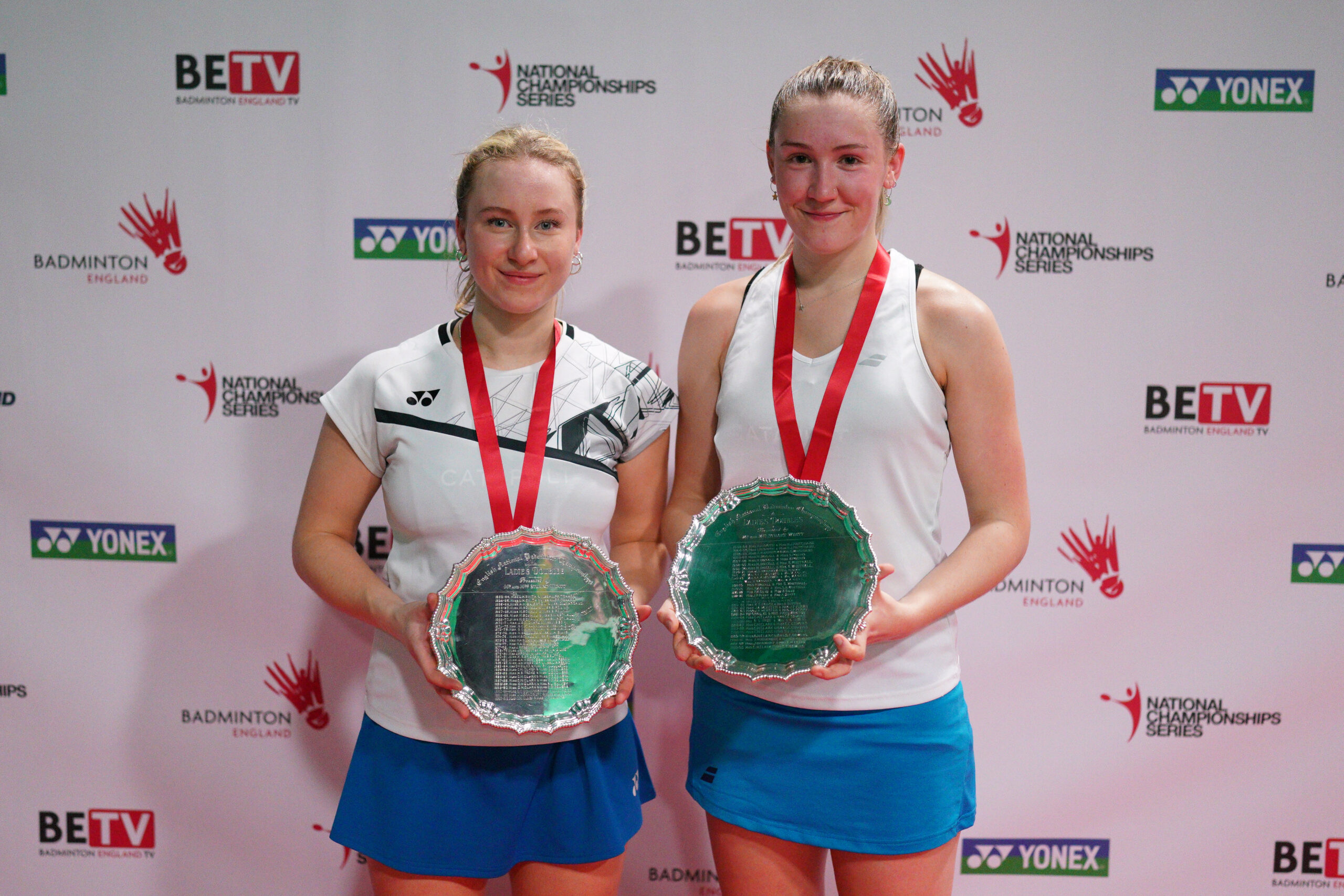 Abbygael Harris and Annie Lado celebrate their women's doubles success (Pic: Alan Spink)
"Last time we played them [Tolman and Warner], it was really close, so we knew it would be a tough match going in," Harris said.
"We knew they'd put up a good fight but we did too, so we're feeling good."
Lado added: "Staying focused is key in doubles or you're not going to win, and we had to do that in the final.
"You just have to focus on every point and not think about the end, and we did that well."
Warner was also a runner-up in the mixed doubles competition, which saw Callum Hemming and Jessica Pugh retain their title.
Hemming and Pugh eased through their first three rounds but had to come from behind in the final, Steven Stallwood and Warner winning an exciting first game 25-23.
The reigning champions dug deep to set up a decider, which they won 21-18 to give Pugh her fourth national mixed doubles title, the first two having been won alongside Lane.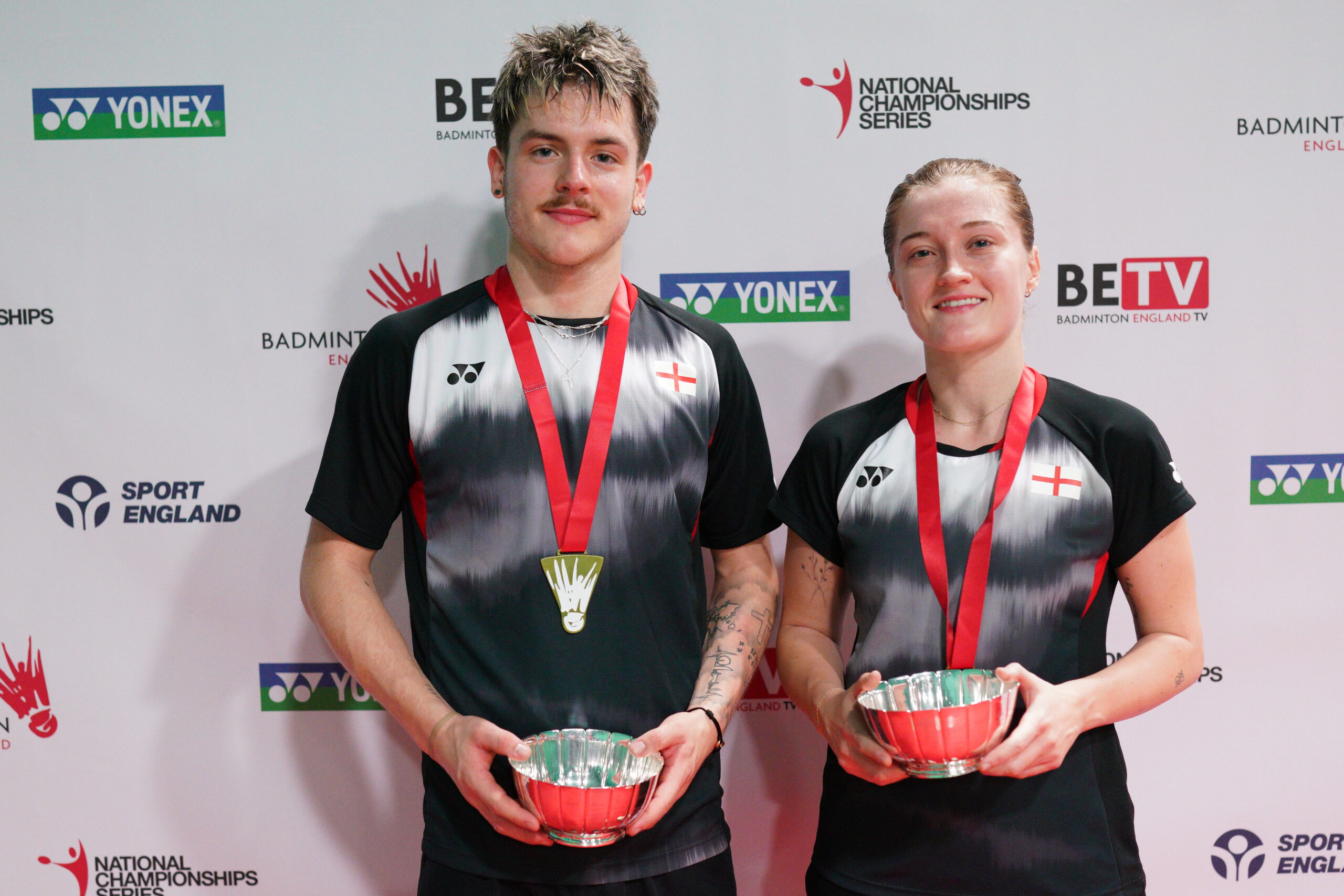 Callum Hemming and Jessica Pugh celebrate their mixed doubles success (Pic: Alan Spink)
Hemming said: "We were number one seeds coming in, so it's always good to achieve the goal you come to achieve.
"It was about being clinical and professional, which we were throughout. We knew if we stuck to our game and relied on our level, we could come out on top.
"There's always a bit of pressure playing against people you know, especially a mate [Stallwood] I've known since I was 10, and they played really well. We're just happy to win."